"Probably the best French wine bar in Budapest. Go there without hesitation the reception is super nice. I recommend!"

"Food was fresh and tasty. The waiter was really nice and helpful . I'll come next time to try their wines."

"Amazing atmosphere and the best wine you can find in Budapest."

"Wonderful place with nice choices of French wine, and price is definitely great! I will come back."
INTRODUCE LE TROQUET, BISTROT FRANÇAIS
You'll feel like you've stumbled into a authentic French bistrot.
CELLAR

Carefully selected wines from the best wine ranges directly from France. Burgundy, Bordeaux, Pays d'Oc...From special productions, to classified Grands Crus & special Cuvées…

WINE BAR

A 100% French wine list with all of our favorite bottles. All in a French concept bar which units perfectly a cellar and a wine bar all in one location.

WORKING CAFÉ

Open from 9 a.m in the morning, we got everything you need to work or chill : Amazing coffee, fresh bakery, Free Wifi, lounge couch & plug.

BISTROT

Daily menu for lunch break or fine dining, our kitchen team created a produce-driven French menu full of simple food with amazing quality product.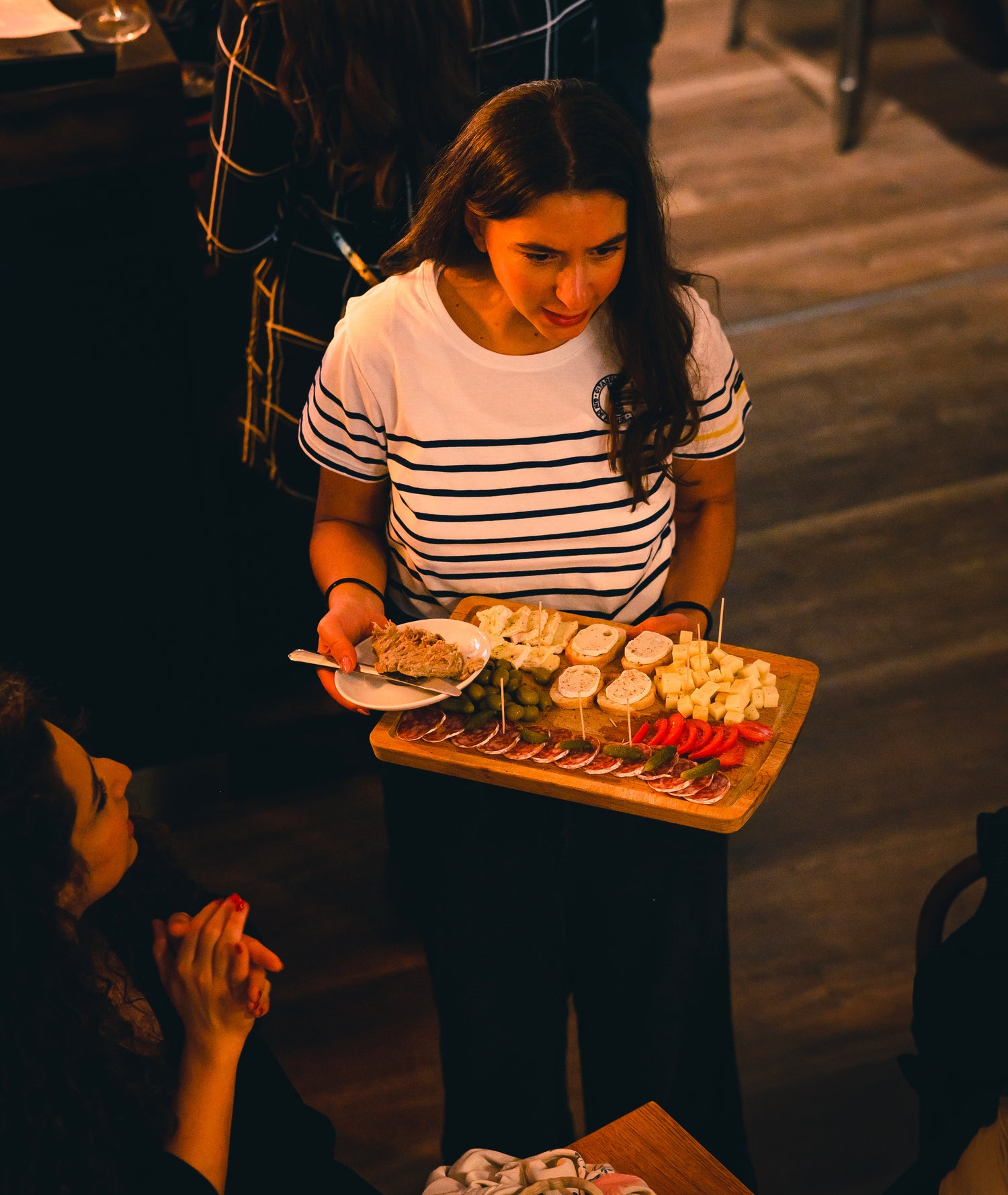 Looking for a cozy wine bar?
We welcome Walk-Ins and in advance bookings. In French hands, Le Troquet presents the best from French culture and gastronomy. Since 2020 we have been successfully creating a genuine French atmosphere in the heart of Budapest, strating from the menu to the wine selection.
Our team is passionate and will offer you an authentic experience trough the French terroir. Our wine list celebrates every region of the country and we can't wait to introduce it to you!
Book a table or a seat, or both.
WINE FAQ
What kind of wines do you have?

We selected for you wines from all wine regions of France, because each of these regions have their specialties, tastes and their own identity. At Le Troquet, you will have the occasion to taste all of them (with moderation of course), during our events, or directly in the shop.
Discover our products HERE !
Le Troquet, Bistrot Français is a wine bar or a wine cellar? Or something else?

Both! We are a concept bar & bistrot: 50% wine cellar, 50% wine bar + extra

The goal is to offer you a place to discover French wines and let you the choice to taste it on the shop, or to take it home. As our place is also a coffee and a bistrot, we are open from 9 in the morning till 8 or night with fresh bakery & daily menu.

You choose!
At what times are you open?

From Monday to Wednesday, it's 09 a.m to 08 p.m.

Thursday & Friday, it's from 09 a.m to 10 p.m and Saturday is from 11 a.m to 10 p.m.

As we host lot of events a few time per weeks, we might close at midnight Friday and Saturday. If you don't want to miss it, take a look at our events page, or on our social media to know our futures events.
I wish to learn more about French Wines, what can I do?"

We are here for this reason! Our wine tastings nights are organized to make you discover our wines, to learn how to taste them and to speak about them (as you know that it's always good to have a quote about wines in front of you friends).

The first objective of Le Troquet is the following: to allow you to know what you are drinking, to know why you have chosen that specific product and to appreciate it. And we will always be happy to take the time with you for explaining you about the wines we love.